Workflow & Applications
Enable Well Optimization & Overpumping/Underpumping Mitigation Workflows
Automate morning and daily drilling reports.
Filter wells down to different groupings based on well or POC status code.
Group status codes into similar workflows for focus on wells requiring immediate attention.
Zoom in on well maps from the filtered list.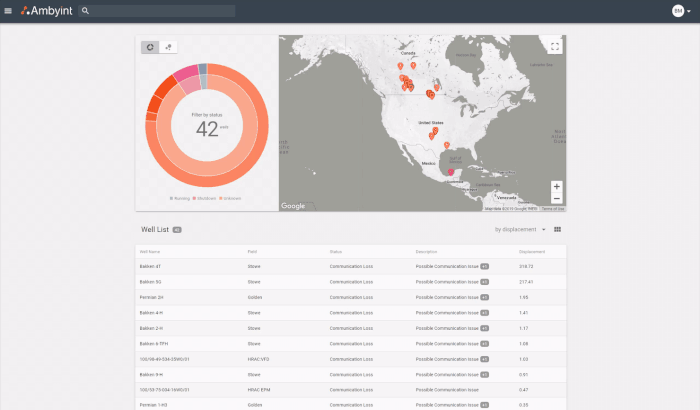 Enable Field Management & Optimization Diagnostics Workflows
Easily generate Field Optimization Reports, such as:
Avg. liquid vs. running SPM analysis.
Cycle/day vs. avg. pump fillage analysis.
ASRM classification for each well, well pad, and all assets.
Enable Intelligent Pump by Exception Reporting Workflows
Target wells with code alerts.
Prioritize wells for morning meeting report.
Customize well-status code alerts—from power or communication loss to shutdown.
Enable Anomaly Detection, Predictive Analytics & Intelligent Control Workflows
Alerts users of current and potential low-load events and anomalies that significantly impact production, such as:
Sudden signal or communication failures.
Hole tubing, rod parting, plugged intake, stuck pump and flumping.
Discover how Ambyint can help you to improve production while reducing costs